COLOR CODING MAGNETIC NUT SETTERS -6 POINT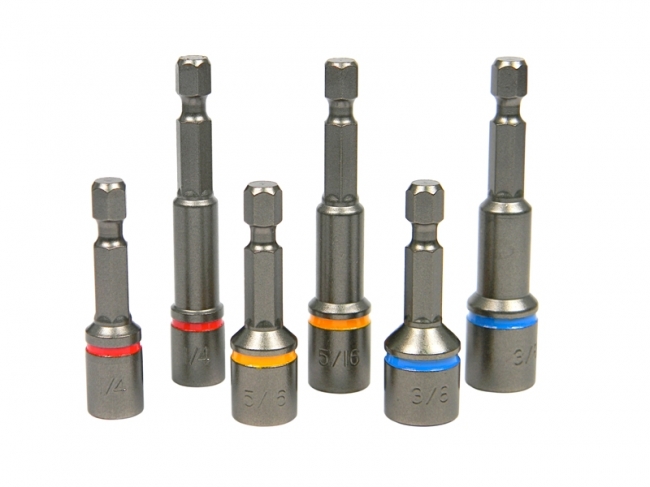 COLOR CODING MAGNETIC NUT SETTERS -6 POINT
Description

High quality chrome vanadium alloy steel, cold forge.
One pc construction with proprietary heat treatment process.
Universal, 1/4" hex shank fits all drills.
Character

With magnet and rust protection.
Ideal complement for any electrical or power screwdriver.
Hardness: HRC 50-54
Different size nut setters are with different color codings.
Custom logo can be imprinted on nose.
Specifications
PRODUCT FEATURES • COLOR CODING

| PART NUMBER | DRIVE | SIZE / IN. | OVERALL LENGTH / IN. | OVERALL LENGTH / MM. |
| --- | --- | --- | --- | --- |
| 3000-MNS-045-1/4C | 1/4 | 1/4 | 1 3/4 | 45 |
| 3000-MNS-045-5/16C | 1/4 | 5/16 | 1 3/4 | 45 |
| 3000-MNS-045-3/8C | 1/4 | 3/8 | 1 3/4 | 45 |
| 3000-MNS-045-7/16C | 1/4 | 7/16 | 1 3/4 | 45 |
| 3000-MNS-045-1/2C | 1/4 | 1/2 | 1 3/4 | 45 |
| 3000-MNS-065-1/4C | 1/4 | 1/4 | 2 9/16 | 65 |
| 3000-MNS-065-5/16C | 1/4 | 5/16 | 2 9/16 | 65 |
| 3000-MNS-065-3/8C | 1/4 | 3/8 | 2 9/16 | 65 |
| 3000-MNS-065-7/16C | 1/4 | 7/16 | 2 9/16 | 65 |
| 3000-MNS-065-1/2C | 1/4 | 1/2 | 2 9/16 | 65 |
| 3000-MNS-100-1/4C | 1/4 | 1/4 | 4 | 100 |
| 3000-MNS-100-5/16C | 1/4 | 5/16 | 4 | 100 |
| 3000-MNS-100-3/8C | 1/4 | 3/8 | 4 | 100 |
| 3000-MNS-100-7/16C | 1/4 | 7/16 | 4 | 100 |
| 3000-MNS-150-1/4C | 1/4 | 1/4 | 6 | 150 |
| 3000-MNS-150-5/16C | 1/4 | 5/16 | 6 | 150 |
| 3000-MNS-150-3/8C | 1/4 | 3/8 | 6 | 150 |