IMPACT BITS W/TIN COATING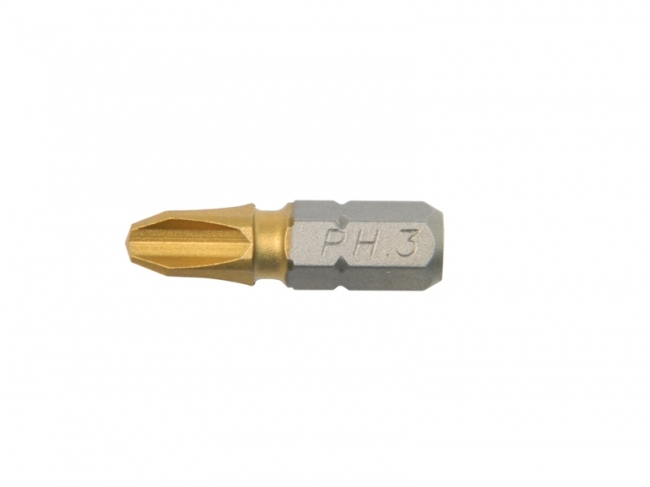 IMPACT BITS W/TIN COATING
Description

S2 modified alloy steel with proprietary heat treating process.
Extraordinary design of the turn down groove makes impact bits elastic,provides 40% more breaking angle, more absorbing impact ability in peak loading.
Twice or more as durable as other bit.
Character

Tin coating on tips resistant weariness well.
Ideal complement for any electrical or power screwdrivers.
Specifications
PRODUCT FEATURES · IMPACT GRADE INSERT BIT

| PART NUMBER | DRIVE | POINT SIZE | LENGTH / MM | LENGTH / INCH | DESCRIPTION |
| --- | --- | --- | --- | --- | --- |
| BP-025-00T | 1/4 | PH#0 | 25 | 1 | TIN COATED BIT |
| BP-025-01T | 1/4 | PH#1 | 25 | 1 | TIN COATED BIT |
| BP-025-02T | 1/4 | PH#2 | 25 | 1 | TIN COATED BIT |
| BP-025-03T | 1/4 | PH#3 | 25 | 1 | TIN COATED BIT |
| BZ-025-00T | 1/4 | POZI#0 | 25 | 1 | TIN COATED BIT |
| BZ-025-01T | 1/4 | POZI#1 | 25 | 1 | TIN COATED BIT |
| BZ-025-02T | 1/4 | POZI#2 | 25 | 1 | TIN COATED BIT |
| BZ-025-03T | 1/4 | POZI#3 | 25 | 1 | TIN COATED BIT |
| BS-025-M3.0T | 1/4 | SLOTTED 3.0MM | 25 | 1 | TIN COATED BIT |
| BS-025-M4.5T | 1/4 | SLOTTED 4.5MM | 25 | 1 | TIN COATED BIT |
| BS-025-M5.0T | 1/4 | SLOTTED 5.0MM | 25 | 1 | TIN COATED BIT |
| BS-025-M5.5T | 1/4 | SLOTTED 5.5MM | 25 | 1 | TIN COATED BIT |
| BS-025-M6.0T | 1/4 | SLOTTED 6.0MM | 25 | 1 | TIN COATED BIT |
| BS-025-M6.5T | 1/4 | SLOTTED 6.5MM | 25 | 1 | TIN COATED BIT |
| BR-025-01T | 1/4 | SQUARE #1 | 25 | 1 | TIN COATED BIT |
| BR-025-02T | 1/4 | SQUARE #2 | 25 | 1 | TIN COATED BIT |
| BR-025-03T | 1/4 | SQUARE #3 | 25 | 1 | TIN COATED BIT |
| BT-025-07T | 1/4 | TORX T7 | 25 | 1 | TIN COATED BIT |
| BT-025-08T | 1/4 | TORX T8 | 25 | 1 | TIN COATED BIT |
| BT-025-09T | 1/4 | TORX T9 | 25 | 1 | TIN COATED BIT |
| BT-025-10T | 1/4 | TORX T10 | 25 | 1 | TIN COATED BIT |
| BT-025-15T | 1/4 | TORX T15 | 25 | 1 | TIN COATED BIT |
| BT-025-20T | 1/4 | TORX T20 | 25 | 1 | TIN COATED BIT |
| BT-025-25T | 1/4 | TORX T25 | 25 | 1 | TIN COATED BIT |
| BT-025-30T | 1/4 | TORX T30 | 25 | 1 | TIN COATED BIT |
| BT-025-40T | 1/4 | TORX T40 | 25 | 1 | TIN COATED BIT |
| BX-025-M2.0T | 1/4 | HEX 2.0MM | 25 | 1 | TIN COATED BIT |
| BX-025-M2.5T | 1/4 | HEX 2.5MM | 25 | 1 | TIN COATED BIT |
| BX-025-M3.0T | 1/4 | HEX 3.0MM | 25 | 1 | TIN COATED BIT |
| BX-025-M4.0T | 1/4 | HEX 4.0MM | 25 | 1 | TIN COATED BIT |
| BX-025-M5.0T | 1/4 | HEX 5.0MM | 25 | 1 | TIN COATED BIT |
| BX-025-M6.0T | 1/4 | HEX 6.0MM | 25 | 1 | TIN COATED BIT |
PATENTED